Natural Wine Making circa 1907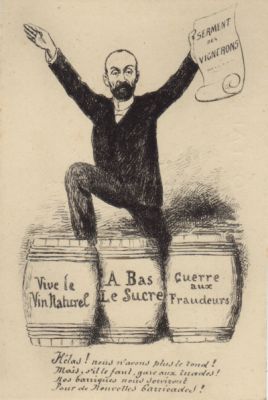 Last night I went to bed thinking about Joe Dressner and Jean-Paul Brun. Joe Dressner imports a great selection of wines from France and is a wonderful story teller. (Just spend some time reading about Buster and the airport.) Joe introduced us to Eric Texier and to many numerous great wines. He is a defender and champion of natural wines which reflect their terroir.
He also imports one of my favorite Beaujolais – Domaine des Terres Dorées made by Jean-Paul Brun.
Jean-Paul's wines were recently denied "A.O.C." status. Having drunk these wines often (and having lived near Jean-Paul),I am not surprised that they were denied this status. They are unique and reflect something from the past that has nearly been lost. The are not made with 71B – the yeast many attribute the banana flavor often found in Beaujolais wine.
After thinking about this last night, I read an interesting blog post this morning regarding a vigeron revolt in 1907. It reads "Long live to the natural wine", "down with sugar" and "down with cheaters". As is often the case with wine making, what is old is now new.
To learn more about the historical reference and read a wonderful blog, take a gander at the blog Wine Tasting, Vineyard in France by Bertrand Celce.