Donkey & Goat Wine Club
We invite you to become a part of our extended family. Enjoy insider access to our exceptional wines & winery experiences as a member of our community supported winery.
Join our inner circle of handcrafted wine lovers!
Fully customizable to get you the wines you want, where you want them, without the hassle. Take a peek at our
Member's Release Dashboard here.
Community Centered Clubs
Tailored for locals who regularly visit our Tasting Room & can enjoy their member privileges with each visit and at our many events each year.
Long Distance Clubs
Tailored for wanderers, dabblers, the curious and the farther-afield who want our limited production, natural wines delivered to their door.
GOAT Club for Business
Reward your staff and customers with quarterly wine deliveries and winemaker led educational tastings, discounts on purchases and more.
Club Benefits
Enjoy VIP status from the moment you join!
Benefits include pre-release offerings of our limited productions, including wines made exclusively for our members, complimentary tastings at our Berkeley winery, complimentary tickets to each Release Party, invitations to intimate winemaker led dinners for our Club Members and much more!
Savings
10 – 20% on all wines, tastings and events
50 – 100% off shipping (Expedition & Wanderlust clubs)
Priority Access
Every March, May, September and November you receive our newest vintages and rarest bottlings at special member pricing, including priority access to library releases.
Winery Visits
Complimentary tastings up to 4x per year
Complimentary tickets to Release Weekends 4x per year
10 – 20% Savings on all Tasting Experiences and Special Event Tickets
Special Events
Member exclusive, winemaker led tastings in our cellar featuring a wine paired menu from a local pop-up chef
Invitations to wine dinners and exclusive celebrations at the winery and around the country
Customized Club Shipments
With each of your quarterly shipments you have pre-release access to all new wines plus any library releases and can add them to your club shipment before it ships.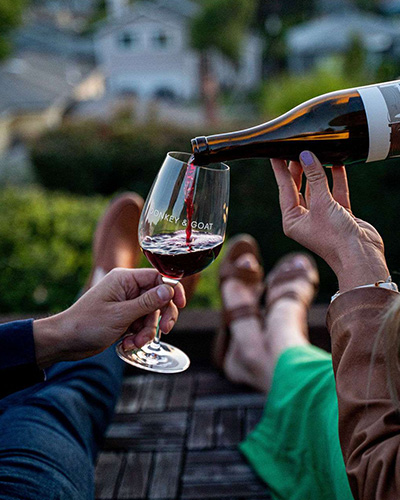 Club Concierge
For questions regarding membership, please email us or call 510.868.9174.
Adventure
(Community)
Expedition
(Community)
Weekender
(Long Distance)
Wanderlust
(Long Distance)
Shipments Per Year
3
3
3
3
Bottles Per Shipment
6
12
3
6 or 12
Discount
12%
15%
10% Off Reorders
12%
Customization
Yes
Yes
No
Yes
Special Holiday Pack
Yes
Yes
No
Yes
Shipping Offer
None
50% Off Ground
None
Free For 6+ Bottles
Tickets
2 x Release Weekend
2 x Summer Solstice
2 x Release Weekend
2 x Summer Solstice
No
No
Tastings
2 Guests / 4x Year
4 Guests / 4x Year
No
2 Guests / 1x Year
Access
Member Only Events
Member Only Events
1 x Large Group Reservation
Member Only Events
Member Only Events
Average Cost Per Shipment
$190
$390
$135 Set Cost
6 Bottles: $190
12 Bottles: $390
Invite Your Friends to Our Wine Club & get $100 Gift Card
Refer a friend who joins our Wine Club and and you receive a $100 Gift Card for use online or at our Berkeley Tasting Room. Simply have the new member tell us your name & email in the delivery instructions field of the online application and we send you an email with your gift card.
Your friends can also join the club by calling 510-868-9174 or emailing us.

"After two years of fires, the California winery Donkey & Goat has learned to pivot, combining appellations and even vintages to turn despair into deliciousness."
"In the 18 years Donkey & Goat has been producing, their priorities have shifted to include a focus on making wine while considering the impact of climate change. By joining the club, members receive discounts on wine year-round, plus exclusive invites and tastings"
"Winemaker Tracey Rogers Brandt of Donkey & Goat is an esteemed California winemaker…She often releases bottles to her wine club that don't get sold anywhere else. Her wine club is an awesome way to connect to California wine."
Join Our Community
Get 10% off your first online order when you join our mailing list!