Our Story
Donkey & Goat is celebrated for being amongst a handful of pioneers in the Natural Wine community because in 2004 they were unique for their ecological principles driving decisions in both the vineyard and the cellar and ten years later for promoting transparency, being one of the first to list ingredients on their label. Founding winemakers Jared Brandt & Tracey Rogers spent a year with the inimitable Eric Texier in 2002 studying the art of crafting natural wines in the Rhone Valley before co-founding Donkey & Goat in 2004 in San Francisco.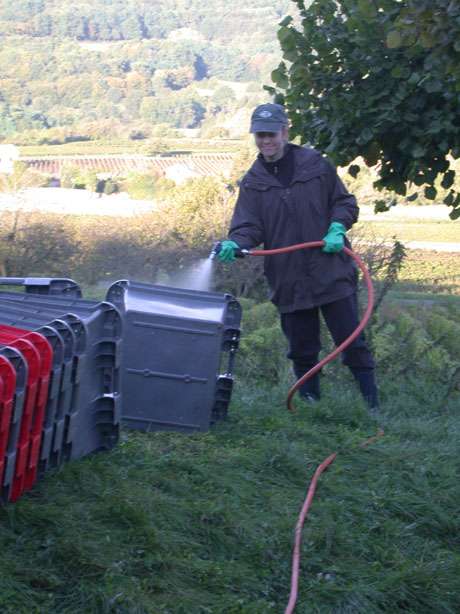 Sept. 2002, Cleaning bins in France

First Berkeley Winery, 2006- 2011

Original Label By Jane Fisher & Colin Frangos

Second Label, 2008-2014
In 2006, with distribution around the US and a growing mailing list, Donkey & Goat moved to 2323-B 4th Street in Berkeley where they built out the first winery facility that is now home to Maître de Chai Wine. Five years later in March of 2011, with a newborn Lily Brandt, the Brandts embarked upon the extensive build out for the current Winery & Tasting Room at 1340 5th Street which opened in July of 2011. Today the Berkeley Wine Block includes three additional wineries that the Brandts helped bring to the block: Broc Cellars (2013), Hammerling Wines (2018) and Vinca Minor (2019).
Connor Bockman, Director of Winemaking
Zachary Becerra, Former '22 Harvest crew & Current Director of Hospitality
Iconic California Pét Nat
In 2009 Jared began experimenting with sparkling wine after sharing a bottle of French Pétillant Naturel (PÉT NAT for short) with another inimitable winemaker in Los Angeles. In 2011 we debuted our first vintage of Lily's Pet Nat, Sparkling Chardonnay that is still made today!
"I was inspired to make Pét Nats by both the traditional Pétillant Naturel made by vignerons in rural France for their own consumption and the desire to make bubbles without any additives."
— Jared Brandt
Founding Winemaker & Co-owner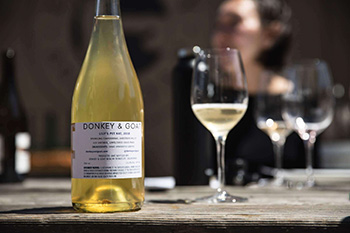 California Orange Wine Pioneers
In 2007 we dabbled with skin contact Roussanne bottled as Tamarindo and by 2009 were labeling a 14 day skin contact Roussanne as Stone Crusher which is still made today!
Farming Microbes
We work with a handful of farmers who share our ethos and drive to make delicious terroir-driven wine while considering the larger environment, planet, and our impact. We like to grow with a farmer rather than grow our list of farmers.
We currently make wine from the following California AVA's and since 2021 we also blend these celebrated AVA's to make Climate-Driven Creative Wines out of necessity.
Our celebrated AVA's:
Anderson Valley
El Dorado
Napa
San Benito
Sonoma Mountain
Russian River
Rutherford
Mendocino

Ron Mansfield, Goldbud Farms
"It took Jared two years to convince Ron to trust his Fenaughty Vineyard Syrah in our hands and we made our first vintage in 2005. That was the start of our longest grower relationship. Ron and Chuck Mansfield are salt of the earth, meticulous, passionate farmers who always think about the resulting wines with every decision they make."
–Tracey Rogers Brandt
The Gilman Wine Block
Berkeley has long been in the epicenter for the farm to table movement thanks to the legendary Alice Waters. Today Berkeley also claims an extraordinary concentration of natural winemakers with Donkey & Goat, Hammerling, Broc Cellars and Vinca Minor Wines all in the Gilman Wine Block where we operate our Tasting Rooms, hold block parties and more.
Join Our Community
Get 10% off your first online order when you join our mailing list!